Our Team
Executive Chef & General Manager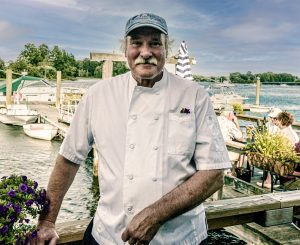 After spending 25 plus years honing his talents in New York City, the American Midwest & the Maryland-D.C. area, Ned, his wife Lucinda & two sons have returned home to southern Maine. He has brought his extensive knowledge & culinary diversity to Great Circle Catering infusing a flare for global cuisine, a plethora of flavors to the usual – and the unusual, as well as our traditional New England fare.
Ned attended Hobart & William Smith College in Geneva, New York studying literature & theology before leaving to follow his passion. Acquiring an internship under renowned Chef Richard Burns in New York City became the perfect launching point for Ned. It was this auspicious beginning where he began his culinary adventure. Being classically trained in an apprenticeship that continued for six years, elevated his art and diversified his portfolio.
In the early 90's, Ned relocated to Hunting Valley, Ohio where he served for the next decade as proprietor & executive chef for his catering company Fabulous Feasts. During this time, Ned also was a culinary instructor at both the Western Reserve School & The Loretta Paganini School of Cooking.
Ned continued on cultivating his professional and personal journey over the years, working as an executive chef in a multitude of arenas staged from Manchester, Vermont to Laurel, Maryland.
Among his most meaningful accomplishments, being able to honestly say "I love my career choice and the life it provides for me. I do not feel as if I work per se… I simply play hard! Having a mindset of staying aware of my talent enables me, enriches me & in turn allows me to constantly fathom new ways to prepare & present food & life itself." Great Circle Catering is thrilled to have Ned as our Corporate Executive Chef & General Manager.
There have been many great endeavors that we collectively, as a culinary team have excelled in.
Our culinary team's cumulative experience is truly extensive, including: world class catering, executive chef positions at country inns, corporate endeavors, restaurants, culinary instruction, and staging events on sailing yachts for the Manhattan Steamship Authority.
Events & Sales Administration
For 10 plus years, Great Circle Catering has been making significant impressions. We are a diversified, talented administration creating an everlasting impact in the catering arena local to Seacoast New Hampshire. Our references, recommendations & reputations are lengthy, transparent & impeccable. We are grateful for our customers and clients. We look forward to further discussing our potential with you in the near future!